The Robert J. Lagomarsino Collection Federal Papers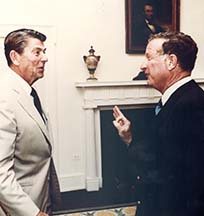 During his service as a United States Congressman from 1974-1992, Robert Lagomarsino was an active member of two major House Committees:  the Foreign Affairs Committee, as the third-ranking Republican and the Committee on Interior and Insular Affairs, as the second-ranking Republican.   He was a Congressional Observer to the Geneva Arms Controls Talks and Vice Chairman of the Subcommittee on Western Hemisphere Affairs, which oversaw U.S. relations with Canada, Central America, and South America.  He was also Chairman of the National Republican Institute for International Affairs, Co-Chairman of the Congressional Task Force on Afghanistan, and a member of the Asian and Pacific Affairs Committee.  In addition, Mr. Lagomarsino served as Chairman of the POW/MIA Task Force, the only official body of Congress that was chaired by a Republican and was House author of a measure creating the Prisoner of War medal.
For more information about this collection, please contact University Archivist, Evelyn Taylor.