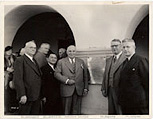 The State of California acquired 1500 acres in the City of Camarillo, County of Ventura, for the Department of Developmental Services to build a state hospital in 1932. The hospital was designed to house 7000 patients and over 700 staff, making it the largest mental hospital in the world upon its completion. A former PWA project, the hospital supported a state-of-the-art teaching hospital, held a notable partnership with UCLA's psychiatric facility,  was a large community employer, housed a number of famous patients, and often is (and has been) the set or background for a number of movies and television shows. The hospital was officially closed in 1997 and was subsequently acquired by the California State University (CSU) system to house the new CSU Channel Islands campus.
The Camarillo State Hospital collection contains artifacts, documents, newspaper articles, oral histories, maps, and photographs relating to the operation of the hospital and its relationship with staff, patients, and the community. For more information about the Camarillo State Hospital Collection, including the finding guide, click here.
Learn about building use at CSH
Portions of the Camarillo State Hospital Collection are available online.
From the Digital Image Collection:
Bell Tower, North Quad, South Quad
For other photographs from the Digital Image Collection, view here.
View the Digital Documents here
See our history pin account under Maps and our Pinterest account
For additional information, contact Evelyn Taylor, University Archivist at evelyn.taylor@csuci.edu.