Meet the New Digital Archivist Elizabeth Blackwood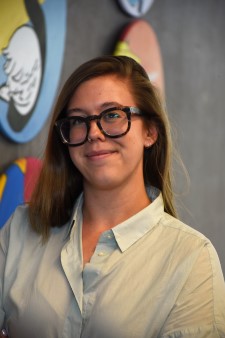 Over the summer, Broome Library welcomed a new member to its faculty--Elizabeth (Beth) Blackwood, serving in the new role of Digital Archivist. Beth holds degrees from Duke University and the University of North Carolina at Chapel Hill, specializing in digital curation and data management. Before joining CI, she spent several years in Washington, DC where she managed digital collections, infrastructure, and change at museums and cultural institutions. Her personal research interests include digital asset management systems and strategy, personal digital stewardship, and copyright.
As the Digital Archivist, Beth will be working to establish the CI digital repository, ScholarWorks, as a primary tool for research and scholarship on campus. ScholarWorks will be the new implementation of the current institutional repository, which houses student theses and dissertations, open access faculty publications, and other academic products. The Library maintains these materials, along with a variety of other digital collections to support faculty teaching and student research. Librarians and staff members actively partner with discipline faculty to preserve these resources and build innovative ways to use them in the classroom. From teaching with local, primary sources, to understanding and participating in the scholarly publishing process, Broome Library is an ally for all disciplines on campus.
One of Beth's major goals is to increase the amount and visibility of datasets housed in the repository to ensure the long term access and reuse of the faculty and student research. She hopes to add more materials from both the social and scientific fields. If you have data that you would like to submit to the repository or are interested in learning more about Research Data Management, feel free to reach out to Beth or attend her workshop, "Research Data Management for Faculty," on November 15th, from 11:00 am to noon.