About

Identity and Affirmation: Post War African American Photography
WHAT: This exhibition features images produced by Los Angeles African American photographers during the post-war years 1945-1980. The photographs on view highlight local and national civil rights leaders, including Martin Luther King, Jr., Ralph Abernathy, Malcolm X, and Stokely Carmichael; politicians, Kenneth Hahn, Augustus Hawkins, and Gilbert Lindsay; and a range of celebrities, athletes, and cultural figures, including Muhammad Ali, James Baldwin, Dizzy Gillespie, Sammy Davis, Jr., Jackie Robinson, and Roy Campanella. This exhibition offers insight into the era and artistic growth and development of events shaping African American identity in Southern California.
OPENING RECEPTION:     February 1, 2012, 4:30 -7PM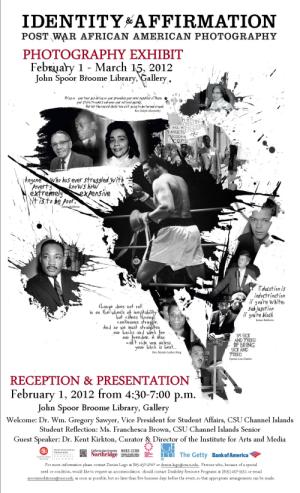 WHERE: John Spoor Broome Library Gallery
DATES OF EXHIBITION: February 1 to March 15, 2012
HOURS:  Open Monday through Friday from 9 am to 5 pm and Saturday 9:00am-5:00pm
Sunday 1:00pm-10:00pm
CURATORS: Kent Kirkton and Lucy Hernandez from the Institute for Arts and Media, California State University Northridge
Organized by:  California State University Channel Island Multicultural Programs Division of  Student Affairs, CSUCI Arts Program, and the Institute for Arts and Media, California.
The Institute for Arts and Media original exhibition was made possible through a grant from the Getty Foundation in Los Angeles as part of the special initiative Pacific Standard Time: Art in L.A. 1945-1980. Pacific Standard Time is an initiative of the Getty