Services

Library Ambassador Program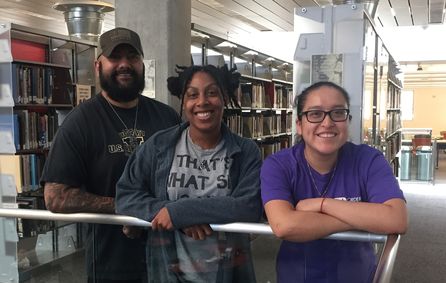 Robert Felix, Lina Severino, and Geydy Martinez
Your Library Student Ambassadors for EOP, PATH, and the Veterans Affairs Program serve as library liaisons for students in their area.  They foster communication, increase awareness of library services and resources, and serve as a "voice" for their fellow students.
Goals
Educate students within their area on how the library can support their academic endeavors
Encourage students to seek research assistance through the library
Provide input to librarians in the development of outreach and instructional materials
Upcoming Events
Spring 2017

Contact an Ambassador
Robert Felix, Veterans Affairs Program
Geydy Martinez, EOP
Want to get involved?
Keep an eye out for the call for student applications next year!
Questions?
For any questions, please contact Kaela Casey at kaela.casey@csuci.edu or 805-437-3330, or Janet Pinkley at janet.pinkley@csuci.edu or 805-437-3217