About

Art Walk 2011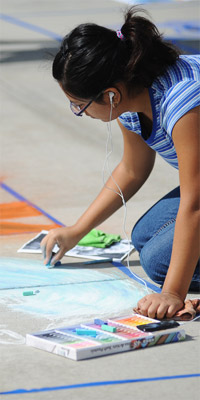 Date: Monday, September 26
Time:  10:00am to 3:00pm
Location: Broome Library Walkway
We provide the chalk, you create the art! Art Walk 2011 will be held on Monday, September 26 from 10:00am to 3:00pm on the sloped sidewalk area of Broome Library. Music will be provided all day! Bring your lunch, lounge on the grass, enjoy the day and the chalk art!
View the flyer for the Art Walk here (PDF, 1.5MB).
For more information please contact Elnora Tayag.